God Save My Queen I and II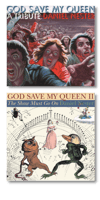 The boxed set! Both volumes: God Save My Queen: A Tribute and God Save My Queen II: The Show Must Go On.
God Save My Queen I and II are collections that draw on a very unliterary source: the British rock band Queen. World famous in the 1970s for such songs as "We Will Rock You," "We Are The Champions," "Another One Bites The Dust," and "Bohemian Rhapsody," Queen's music is embedded in our public consciousness, in our sports stadiums, in TV commercials, and Wayne's World.
But it is a source of a deeper obsession for the author, poet and journalist Daniel Nester—in God Save My Queen, a short essay or riff accompanies, in order of album and track, every song recorded by the band, in chronological order, until its flopped "disco" album, 1982's Hot Space. Part memoir, part prose poetry part rock book, Nester draws connections betwen everyone from Liza Minelli, Leni Riefenstahl, Billie Jean King, Michael Jackson and Freddie Mercury sharing a kiss in 1981, even a rant on Courtney Love's giggling over Kurt Cobain's mention of Freddie Mercury in his suicide note. The entries for the songs add up to a love letter to a band, and a time when all that mattered was a record player and a pair of headphones.